As future lawyers, judges, and policymakers who will go on to shape the legal outlook of the country, law students hold an important role in society. Therefore, their understanding of social justice issues and laws is of utmost importance. To this end, iProbono has developed a training course on child rights laws and is partnering with Indian law universities to conduct these sessions for interested law students.
Part of our recently introduced legal education and capacity building vertical, these courses supplement the regular course curriculum provided by law schools and provide students with a unique opportunity to expand their knowledge, interact with professionals from the child protection sector, and get sensitised to the needs and realities of the children in the justice system.
In May 2023, we conducted our first training sessions under the module titled 'Certificate Course on Laws Relating to Children – In Theory and Practice',  in collaboration with the Center for Child Rights – National University of Study and Research in Law (NUSRL), Ranchi.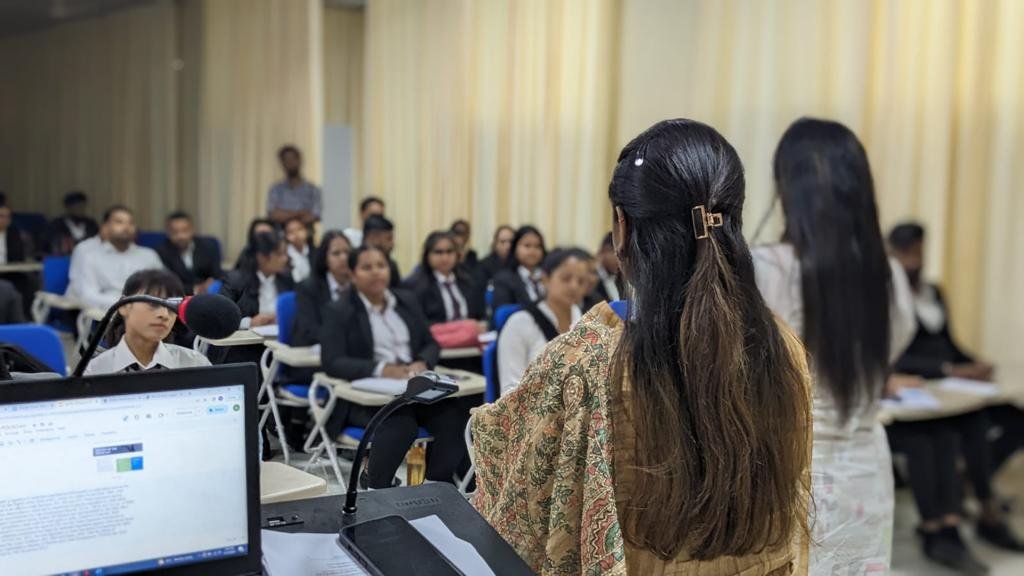 The Center for Child Rights (CCR), NUSRL, focuses on child protection in partnership with the United Nations Children's Fund (UNICEF) and conducts seminars, trainings, and workshops for different functionaries in the sector. It collects feedback from the field to understand the bottlenecks in the delivery of justice and serves as a repository of information on child rights laws and their implementation, with a focus on juvenile justice.
"Children are the future of the country. The Center for Child Rights, National University of Study and Research in Law, Ranchi, Jharkhand, strives to create warriors and saviours of vulnerable children – both Children in Conflict with Law and Children in Need of Care and Protection. We have collaborated with iProbono – an institution of excellence in advocating for the rights of women and children and human rights issues – to create awareness and foster pro bono lawyers who are equipped and motivated to fight for this noble cause in Jharkhand."

Syamala Kandadai, Associate Professor of Law, Dean of Faculty & Chairperson, Center for Child Rights, NUSRL Ranchi.
Certificate Course on Laws Relating to Children – In Theory and Practice
The recently conducted sessions included an overview of the relevant laws as well as practical exercises so that students could learn the skills needed for working on child rights issues – be it through litigation, advocacy, academia, or roles in the development sector.
To ensure that the students understand the child protection system holistically, the sessions were led by lawyers from the iProbono team – Nimisha Menon and Yamina Rizvi –  who have considerable experience in working with children and their families. Each session was followed by a test to gauge how much the students gained from the course. The sessions covered topics such as:
An overview of the POCSO and Juvenile Justice Acts
Different stages of a trial
Role of a victims' counsel in POCSO cases
Bail and preliminary assessment in Juvenile Justice cases
These interactive sessions went beyond the knowledge of the statutes and involved practical advice on working with vulnerable clients, an overview of the child protection ecosystem and common issues faced in courts.
"I learnt about child rights and gained practical knowledge about how the courtroom works and what are all the processes for every person present in that court".
A second-year student from Ranchi University.
To maximise its reach, iProbono and CCR opened the course to all law students in Jharkhand. Over 80 law students from different universities, including NUSRL, Amity Law School, Ranchi University, and Chotanagpur Law College, attended the sessions.
With these courses, we wish to motivate students to become advocates for change. Along with giving them insight into the frameworks implementing particular laws, we also intend to acquaint them with the existing challenges faced by vulnerable communities.
The 'Certificate Course on Laws Relating to Children – In Theory and Practice' includes training sessions on laws like:
The Protection of Children from Sexual Offences Act, 2012
The Juvenile Justice (Care and Protection of Children) Act, 2015
The Child Labour (Prohibition and Regulation) Act, 1986
The Bonded Labour System (Abolition) Act, 1976
The Immoral Traffic (Prevention) Act, 1956
The Prohibition of Child Marriage Act, 2006
The Medical Termination of Pregnancy Act, 1971
*Courses can also be tailored to the particular subject areas that the partner university in question wishes to focus on.
In case your law university is interested in developing similar course modules with iProbono, reach out to us at trainings@i-probono.com or communications@i-probono.com.